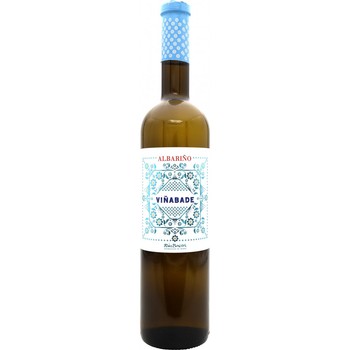 Viñabade Albariño
Wine Profile
About This Wine
The wine of Galicia, Spain, our Albariño is as gorgeous as the region. Medium bodied white, full of the flavours of the land, the sea and the local flowers. A clean, bright wine. Golden yellow color with greenish hues. Fresh palate with balanced acidity, structure and body.
About This Winery
Located in the Rias Baixas appellation, the Viñabade Val do Salnes vineyard is blessed with breezes from the Atlantic and soil from Spain's Galicia region. The winemaking is sustainable and as natural as possible, with grapes grown from vines that are more than 20 years old, traditionally grown on pergolas 70% and trellised vines 30%. The soil is 50% granite, 25% clay and 25% sand and contributes a beautiful minerality to the wine. Fermented in small stainless steel tanks, the wine is allowed to settle naturally by gravity and is only slightly fined or filtered.
Pairing Notes
Try it with ceviche, seafood risotto, grilled (or fried) fish tacos, oysters, mussels, and clams. Cheese Pairing: Soft cheeses like burrata, or semi-hard cheeses such as manchego, gouda and salty feta are all excellent alongside these fresh and bright wines.
Nose
Floral nose with notes of apple, apricot and peach.
Varietals Albariño
ABV 12.5%. 6 g/L Total Acidity
Designations/Awards
91 POINTS MUNDUS VINI