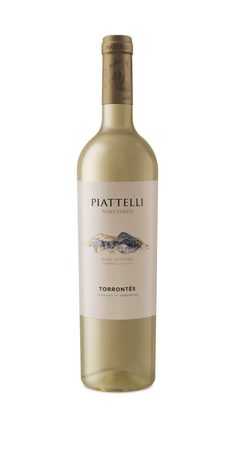 Piatelli Cafayate Torrontes
Wine Profile
About This Wine
The 2022 Torrontés Reserva from Cafayate is a pale yellow hue and has a pleasant aromatic profile of lime, rose and a touch of lychee. Broad in the mouth with moderate body and precise freshness, the finish is silky, bold and sustained. This is a real Torrontés with wonderful tropical sweetness and richness. It has floral, and sweet tropical fruit aromas. It shows plenty of dried-lemon, grapefruit, and apple character. Layered and delicious. Crisp and balanced finish.
About This Winery
Piattelli has been making wine for four generations. Their head winemaker is Valeria Antolin and she treats all of the vines as if they were her own children. Along with Alejandro Nesman, head winemaker in the Cafayate vines, Piattelli utilizes Cafayate's unique climate to produce some of the best and highest rated high altitude wines in Argentina.
Cafayate is one of the highest regions in the world that is suitable for viticulture. This high altitude is what defines the terroir of the region and makes it suitable for growing grapes despite its close proximity to the equator. Cafayate receives intense sunlight which causes the skins of the grapes to thicken significantly as a protection against the sun. Though the days are bright and warm, true to a desert climate the nights can be very cold which causes the growing season to be extended and ultimately leads to a balanced structure in the end.
Pairing Notes
Excellent alone, this Torrontés pairs well with Thai food, seafood, fresh salads and tropical fruits and cheese. It is an excellent, refreshing luncheon or brunch wine that can also be enjoyed on its own. Residual sugars 1.6 mL
Nose

Tropical aromas of pineapple, peach and orange blossom. Aromatic notes resonate in the mouth with fresh apricot and lychee and a hint of orange zest.
Varietals
Torrontés Riojano
ABV 13.2%
Awards
92 pts TimAtkin 2020